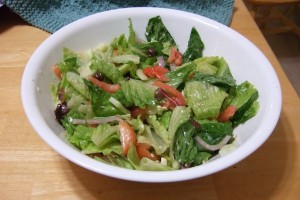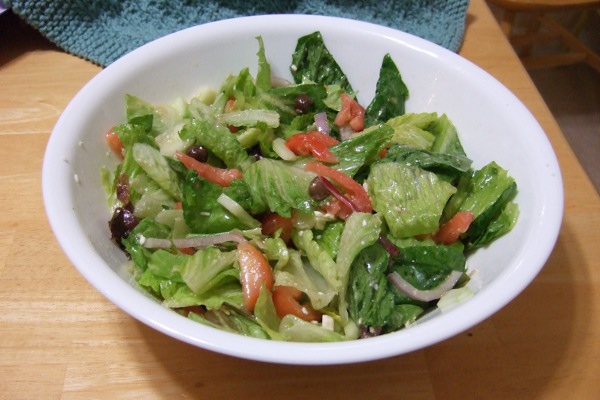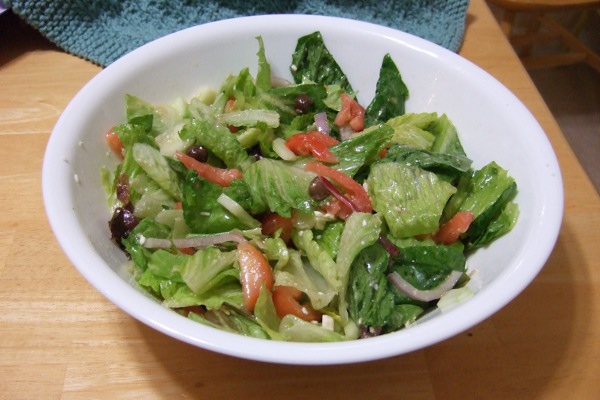 I could eat this salad every day. It is so light and fresh tasting.
Dressing Ingredients:
About half a cup of red onion, quartered and cut into thin slices
Up to half a cup of seeded and roughly chopped kalamata olives
Tablespoon of lemon juice
Two teaspoons of salt
Two teaspoons of minced garlic
One teaspoon dried oregano (optional – to taste)
One half teaspoon black or white pepper (optional – to taste)
A cup of extra virgin olive oil
Combine all dressing ingredients in a jar or other container with a leak proof lid. Shake vigorously until well mixed and onion is thoroughly coated. Refridgerate for at least four hours, optimally 12 to 24 hours. Dressing will keep for several days.
Salad Ingredients:
A 10 oz bag of pre-washed and chopped romaine lettuce or two romaine lettuce hearts, roughly chopped
Four roma tomatoes, halved and sliced
A medium cucumber, peeled and seeded, sliced
A small or half a large green pepper, cored and seeded, cut into inch by 1/4 inch sticks
Around half a cup of crumbled feta cheese
Greek dressing (see above)
Combine all ingredients in a large bowl. Just before serving, add dressing and mix salad until well mixed and coated with dressing.
Yields four nice sized side salads or two entree sized salads.