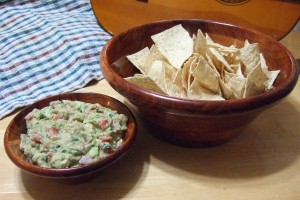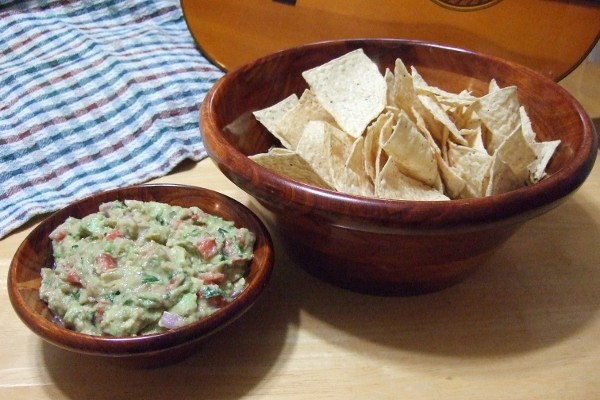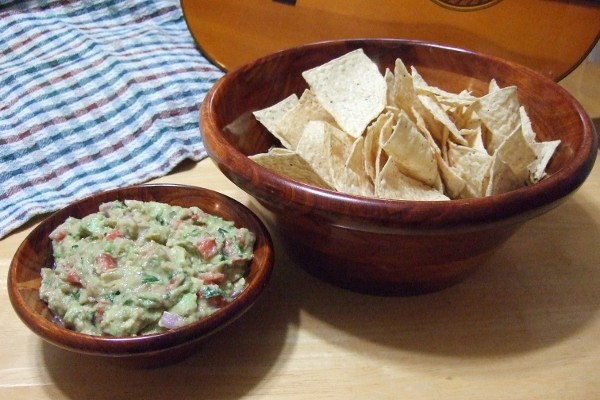 Guacamole is best made fresh right before serving. It's always fantastic with tortilla chips but is wonderful to top a taco salad or on a chicken sandwich or wrap.
Ingredients:
3 ripe avocados
1 medium tomato, diced
around half a cup of fresh chopped cilantro
around half a cup of diced red onion
around a quarter cup of diced pickled jalopenos (optional)
a tablespoon of lime juice or juice from a fresh lime
2 teaspoons of salt
1 teaspoon of cumin
1 teaspoon of minced fresh garlic
It is best to not touch avocados with metal utensils or bowls. I usually use glass or corningware bowls and a wooden spoon.
Cut each avocado lengthwise around, cutting to the pit. Then cut lengthwise again to make quarters. A ripe avocado should separate readily from the seed. A ripe avocado should also separate easily from the rind by pulling the rind back from the flesh. If avocado sticks to the rind, use a wooden spoon to scrape the inside of the rind.
Put the avocado quarters in a large bowl. Us the wooden spoon to chop the avocado into chunks then to mash it. Once the avocado is mashed well, add the other ingredients and stir well to combine. Serve immediately.
Leftover guacamole can be refrigerated for a couple of days, but any parts of it exposed to air will turn brown. It can be stored in a ziplock bag with air removed or can be stored in a bowl with plastic wrap pressed directly to the guacamole.