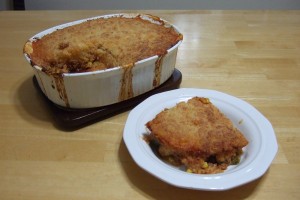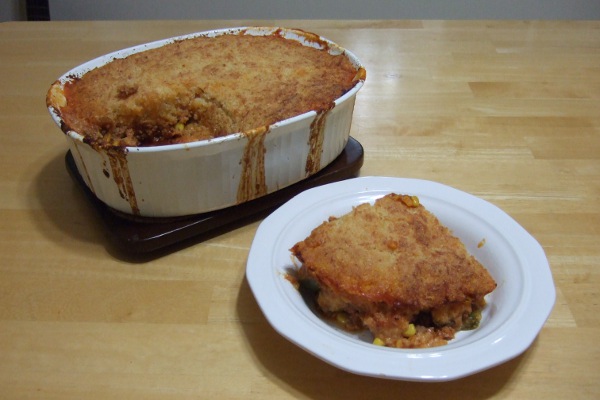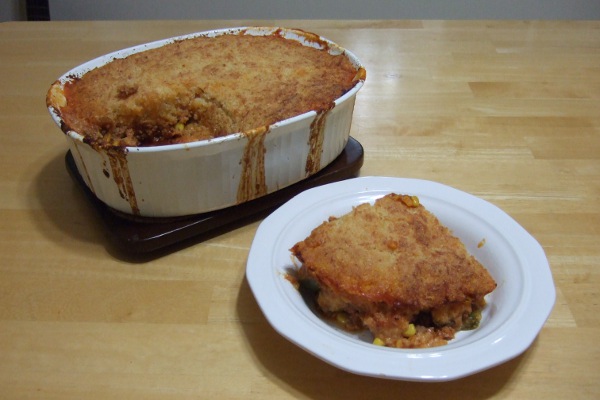 This is a hearty dish that can be a one dish meal or can serve as an entree.
Ingredients:
1 1/3 to 1 1/2 lbs of ground beef
1 beef bouillon cube
1 large green bell pepper, cut in roughly 1/2 inch pieces
1 10oz can of whole kernal corn, drained or 1 cup of frozen whole kernal corn
1 14.5 oz can Mexican style stewed tomatoes
1 14.5 oz can tomato sauce
1 1/2 cup self rising corn meal mix
1 cup buttermilk
1/2 cup vegetable oil
1 cup shredded Mexican style cheese (optional)
In a skillet or sauce pan, brown ground beef and drain. In sauce pan, combine browned ground beef, bouillon cube, bell pepper, corn, tomatoes and tomato sauce. Stir and cook on medium-high heat for a few minutes. Reduce heat to medium-low and cover, stirring occasionally. Cook until peppers are tender.
Remove from heat and pour into a deep casserole dish. Preheat oven to 375 degrees. In a bowl mix corn meal, buttermilk, vegetable oil and cheese. Mix and drop by spoonfuls on top of the beef mixture evenly. I would suggest putting a cookie sheet with an edge on the rack below the casserole in case it runs over while baking. Bake for 30 minutes.
Makes 6 generous servings.