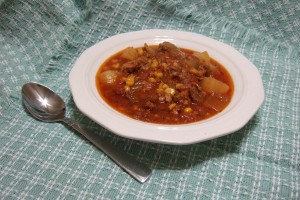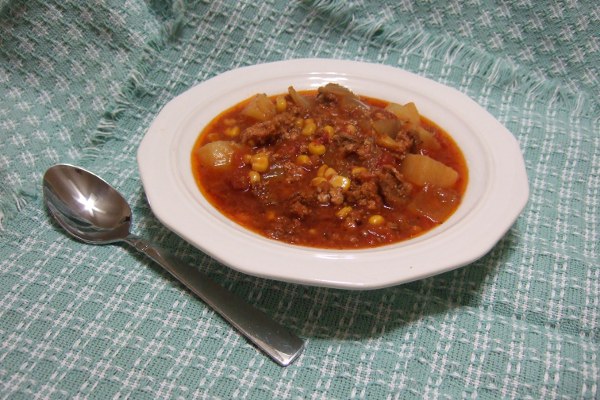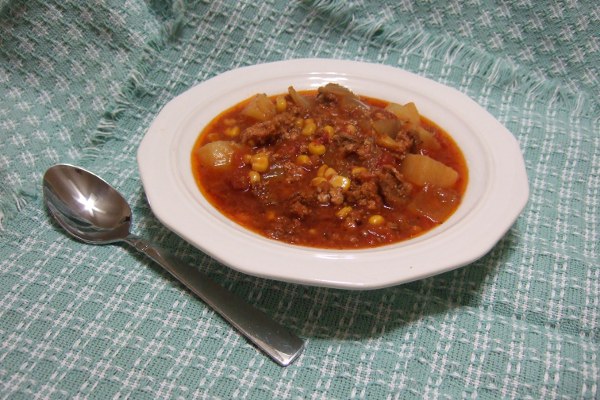 This is a very hearty stew that is soothing and filling. Serve with cornbread for a very satisfying meal.
1 1/3 pounds ground beef
1 large russet potato
1 10oz can of whole kernal corn, drained or 1 cup of frozen whole kernal corn, thawed
1 large onion, peeled and chopped in inch pieces
1 tablespoon garlic and herb mix
1 teaspoon thyme
1 teaspoon salt
1 14.5 can diced tomatoes
1 14.5 can tomato sauce
water
The ground beef can be browned in a skillet, drained and added to crockpot or can be prepared in the crockpot. To prepare ground beef in the crockpot, place raw ground beef in the pot and use a turner to break up and spread across bottom of pot. Cover and cook on low for an hour. Use turner to break up beef and stir. Cover and cook on low for another hour. Remove most of the drippings before proceeding.
Peel and cut potato into half inch cubes. Add to pot with cooked beef. Add other ingredients. Half fill the tomato and tomato sauce cans with water, stir and add to pot. Stir contents of pot, cover and cook on low for 4 or 5 hours.
6 servings