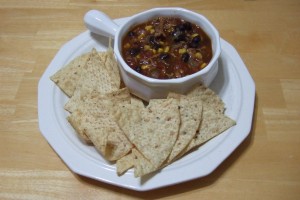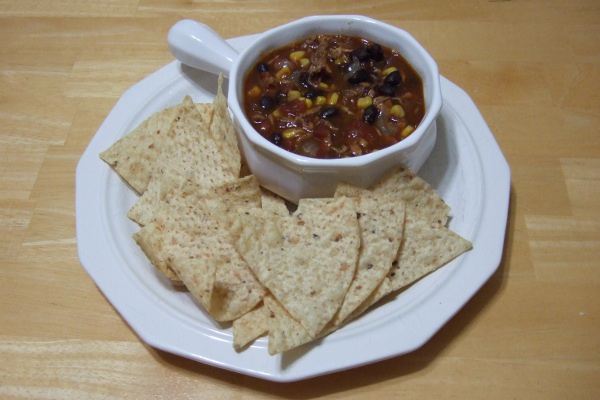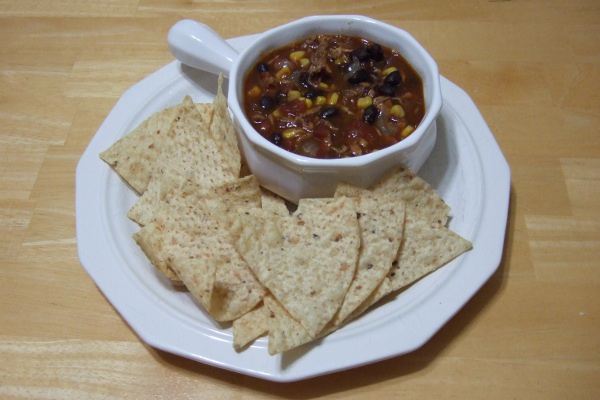 This soup is so easy to prepare and so delicious. It is much like the ground beef variety, but made with chicken and prepared in the crock pot.
Ingredients:
2 boneless, skinless chicken breasts
1 packet taco seasoning
1 14.5 oz can chicken broth
1 14.5 oz can black beans
1 10oz can of whole kernal corn, drained or 1 cup of frozen whole kernal corn, thawed
1 medium yellow onion, peeled and chopped
1 10 oz can RO*TEL Diced Tomatoes & Green Chilies
1 14.5 oz can tomato sauce
Put chicken breasts in crock pot and sprinkle with taco seasoning. Add chicken broth. Cover pot and cook on low for 3 hours.
Chicken should be tender. Us a turner to break chicken into small pieces. Add the remaining ingredients and stir. Cover pot and cook on low for at least 2 hours.
Soup can be eaten as is, or can be topped with shredded cheese and sour cream. It is great served with tortilla chips.
Makes 6 servings.