Archive for March, 2008
I've been neglecting the other blog I set up for my son-to-be. Just absorottenlutely neglecting it. We've been given all kinds of incredible things – clothes, goodies from the two baby showers that have been thrown for us so far (including some really big ticket items), furniture, etc. – and I haven't yet gotten around to posting pictures of all our great booty. For that failure I've been harassed by my dad, Lynn's family, and now the Nicole. No introduction or discussion of the Nicole is necessary… she's just… well, the Nicole. She's a wonderful person and all that, but convicted enough about what I should be doing with the babyblawg to make me want to correct my deficiencies to date… and as soon as possible.
Anyway, so yeah, Lynn and I have literally been showered with affection and gifts and whatnot ever since I got her "into trouble" last summer, and from people who mean more to us than I could possibly express, wannabe-writer and all. We've gotten tons of really thoughtful and well-selected purchases and handicrafts (some of which look like they came from one of them there Bevery Hills stores), and I've just been overwhelmed by all of it.
I think I've mentioned before (or maybe I just thought it real loudlike) that the reality of my impending fatherhood has been developing in stages: the ultrasound images; the changes in Lynn's worklife and in our home; my grandpa Israel speaking the baby's name for the first time. Tonight, finally, after we had gotten home from the shower Lynn's office threw for us, the reality became complete for me. It was both wonderful and devastating, and I bawled my eyes out. What happened? Our wonderful friend Addy made Little Carter a teddy bear named Teddy (who is a lot more brown than he looks in my crappy photo):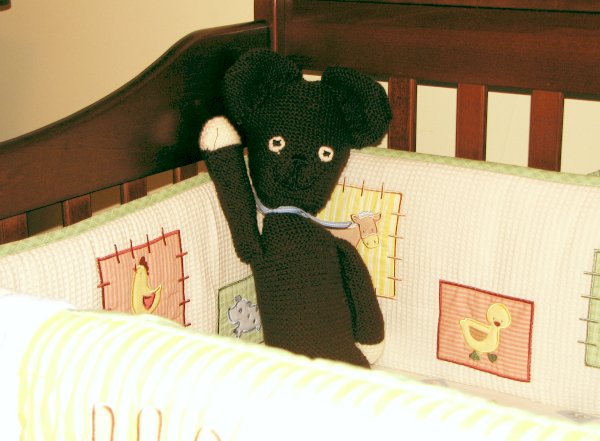 And before you tell me Teddy's ugly, have a look at his role model: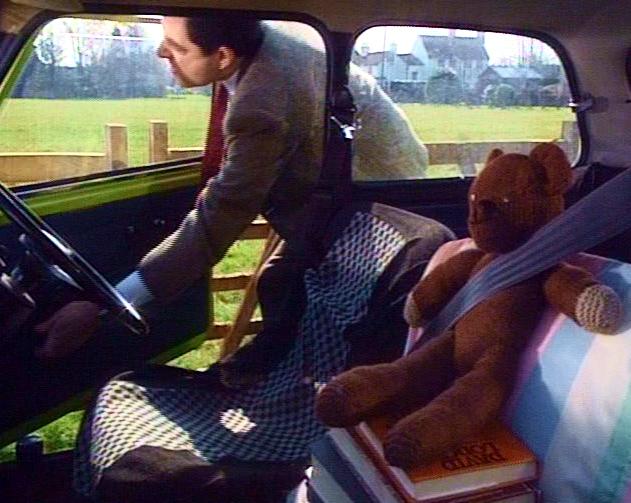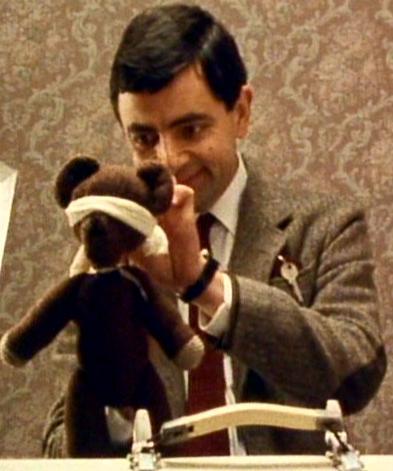 For those of you who don't know it, that's Rowan Atkinson (as Mr. Bean) with Bean's best friend, Teddy. It's a pretty good likeness, I think, and is the perfect custom-made accessory for the culturally literate child that Little Carter is sure to be. It's also an item that I will probably be stealing from my young one on a regular basis.
It's not the sentiment of Addy's gesture that shook me up, or even the time spent researching and hand-crafting the perfect gift for us, but rather the function Teddy will fulfill: Little Carter's first, best and probably favorite companion.
I'm a big old manly man, but I'll admit to a soft spot in my heart for teddy bears. My mom was supposed to be here to celebrate her first grandchild's birth with us, but God was ready for her before He blessed us with our little fellow. She used to make teddy bears of all varieties and, whenever I think of my childhood, I remember great happiness for both of us as she would unveil a new teddy. Some wore overalls, some wore other kinds of little outfits and some were even colored up in very un-bearlike ways, but every single one of them meant the same thing to me: I was a little boy and I had a happy life in a happy home.
I guess I always figured that when it was time for me to raise my own child, there would be a teddy bear involved. It's silly, I know, but now that I have Teddy, I know I'm going to be a father.