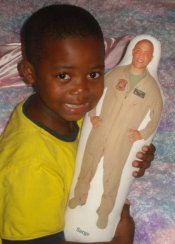 When Lynn told me about Daddy Dolls, I thought it sounded pretty silly. They basically take full-body shots of servicemen (and women) and print them on roughly body-shaped pillows, thereby creating "dolls" in the not-so-near likeness of their subjects. It was obvious to me right off that such a poorly executed idea would never catch on.
Except… I started looking at pictures of kids clutching their dolls, sleeping with them, dragging them around all over the place… and it sort of got to me. You realize that, based on biological odds, a lot of the folks serving overseas have children. But maybe (like me) you never stop to really think about those kids. It's easy to think that their parents aren't real people, but rather figures for the gloating political opportunists. They're easily tabulated and moved from one column to the next, and from the "see, I told you this was a bad idea" box to the "let's support our troops because it looks good to do so" box. But their kids don't see it that way. There's nothing special about military brats that endows them with the extraordinary ability to not miss a parent… they're just kids, and maybe these dolls help a little. God bless them if they do.
And God bless free enterprise. This isn't something you'd see spontaneously happening in China.